Over the years, the
National Enquirer
has earned a reputation for reporting false and inaccurate information, and rightly so. The grocery store tabloid has been sued repeatedly during its run for publishing exaggerated, sensational stories about everything from Cameron Diaz's relationship with Justin Timberlake to the kidnapping victim Elizabeth Smart (who, according to the
Enquirer
, ran a gay sex ring with her male family members).
That's not to say that it doesn't sometimes break real news. Contrary to popular belief, the
Enquirer
actually possesses a capable, dedicated staff of investigative reporters who painstakingly research the tabloid's main stories. That's why they magazine has always been the first to run scandalous, unbelievable stories about topics such as Charlie Sheen's HIV diagnosis and Bill Cosby's infamous history of sexual assault. In fact, the
Enquirer
reported on Cosby's disgusting dalliances a full nine years before the mainstream media picked up on the story. Initially, no one believed the story, due to the
Enquirer
's less-than-stellar journalistic reputation.
Yes: It may be hard to believe, but the
Enquirer
is actually something of a whistleblower when it comes to exposing the hypocrisies and evildoings of society's most famous and powerful figures. Peruse this list of the tabloid's biggest, most scandalous scoops to date and keep your eyes peeled for the next true
National Enquirer
headlines!
Charlie Sheen AIDS Cover-Up
No one was surprised, per se, when the
Enquirer
claimed in November 2015
that Hollywood hellion Charlie Sheen was HIV-positive and had been paying off people who knew in order to keep it a secret. However, no one actually believed it until Sheen announced the news for himself on
The Today Show
. The
Enquirer
spent 18 months sending reporters around the country to interview sources close to the situation.
Bill Cosby's 50 Years of Evil Lies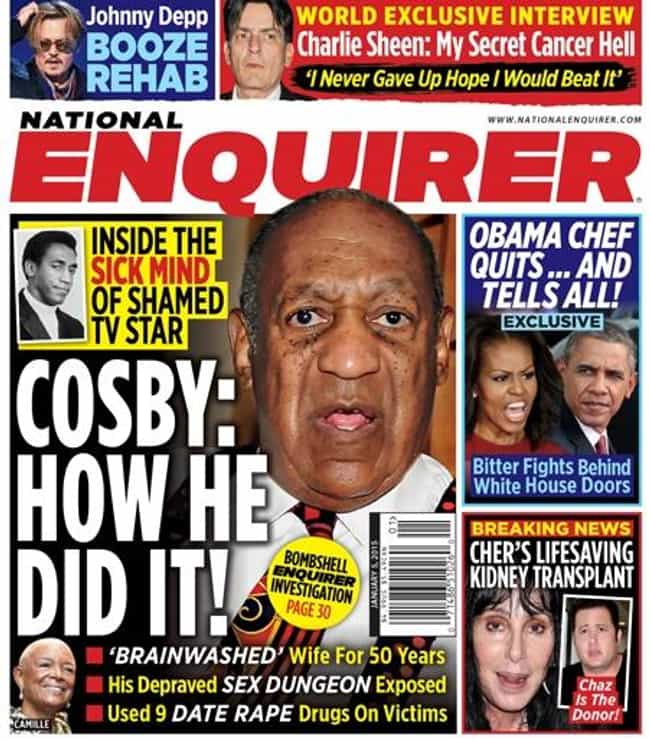 In 2005, nine years before any other publication became wise to Bill Cosby's extensive history of sexually assaulting women, the
Enquirer
ran a story alleging Cosby's assault of two women. Cosby supposedly
paid the tabloid
to run a story denying the women's claims, but the
Enquirer
instead decided to blow the whistle on him. Of course, no one believed any of it was true until 2014, when Cosby's horrific behavior was covered by most major publications. (However, many people still don't want to believe it's true.)
Please share this.